Curious about what is Brainio? Let's answer that question.
Brainio is a unique application that helps learners builds lifelong knowledge. And the main feature? It combines the power of notes and mind maps to leverage your visual capabilities.  In other words, it allows you to flawlessly transit between notes and mind maps and work visually. Above all, it helps you to unleash the power of your brain.
Moreover, Brainio comes with an artificial intelligence algorithm that learns to understand you. Based on the content analysis it can suggest online content for you. For example courses, books, and articles that can help you to deepen your knowledge.
That is to say, the fantastic thing about Brainio is the synergy it brings to learning. It aids teamwork and online collaboration by helping you work visually. In other words, its visual interface makes it easy to capture, connect and share information with others. In addition, it is solving two big problems:
information chaos and overload and
usability of mind maps in our everyday life.
Brainio comes with cloud storage which allows you to save and access your content anywhere you are. It currently runs on macOS, Windows, and Linux.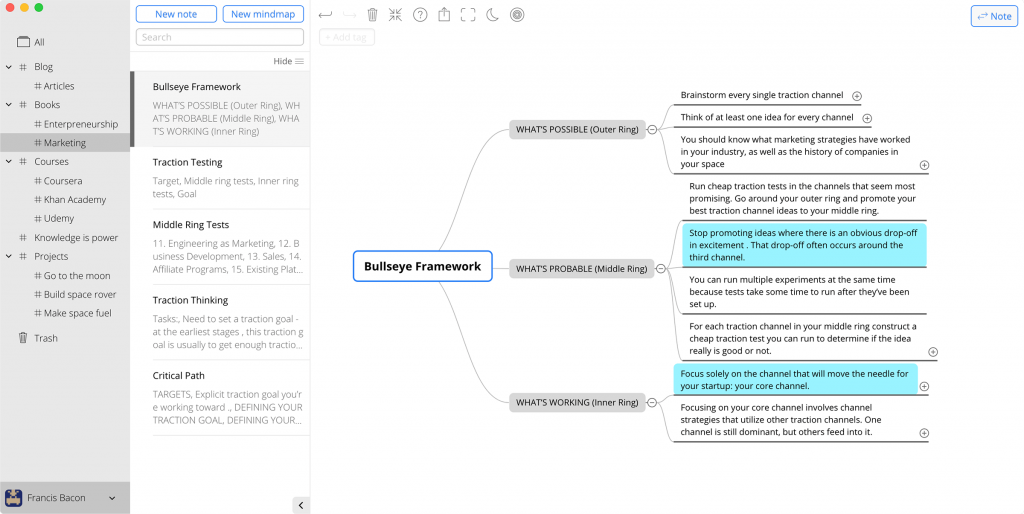 Why do you need Brainio?
Considering that we live in a fast-paced world that is knowledge-driven, it becomes critical to strive for the new paradigm – lifelong learning. So by dedicating yourself to a lifelong of knowledge, you get ahead of your personal and professional life.
Brainio is created to help you fully utilize the potential of your brain by working visually. To sum up, it helps you to:
Keep knowledge structured on every level.
Visualize and organize ideas and knowledge.
Improve critical thinking.
Adapt to the ever-changing world through lifelong learning paragidm.
Collect and manage your knowledge in one place.
Collaborate visually in real-time.
Key Features

Instantly format your texts without ever touching a mouse. Convert your note to various formats. Above all, markdown is useful because it gets to the core of what matters: your writing.
Mindmapping is a powerful technique aimed at improving learning capability by visualizing your thoughts and ideas.

Sharing and collaboration
You can easily share your content with other people and collaborate in real-time.

All documents are stored in the cloud, available anytime and anywhere. You don't have to worry about losing your information anymore.

AI algorithms recommend online content that will deepen your expertise.

Are you a book lover? You can import your kindle highlights and display your book as a mind map.
How to Use Brainio
Get the Brainio application (soon available here).
Capture your thoughts, ideas and other information.
Organize your knowledge. Start learning.
Share it with your family, friends, and colleagues.
Learn collaboratively in real-time.
Deepen your knowledge.
We believe that Brainio will help you to be more productive and bring your ideas to life. That's the reason why are we building Brainio.
Sign-up for beta now and become our insider.